This is my second post in my new recommendation series! Last time, I gave you some of my favorite fantasy books, and this week I come to you with the genre of science fiction. Again, many of these books are apart of series. There is a very wide range of science fiction novels, from dystopian to space stories. Here are so of my favorite in the YA genre. I tried to stay away from The Hunger Games and Divergent, because many people already know of them/read them.
1. THE Lunar Chronicles
It is no mystery that I absolutely love this series. It has really picked up and more people are reading it, but don't let that lead you away from this story. It is a very unique spin on fairytale retellings, and covers quite a few tales. It has cyborgs and people living on the moon, and it is brilliant. Trying to explain to someone that Cinderella in this book is cyborg is very strange, and may turn people away, but you must give this series a try!
2. THE Darkest Minds Trilogy
Another well-known favorite of mine. This series is definitely unlike any other book. It is set in a futuristic America where all these kids develop this disease. With it, they develop all these "powers" and are sent into the equivalent of a concentration camp. The main gang of this book have some great adventures together as they learn more about this mysterious disease. It has the sci-fi, adventure, action, and even some romance thrown in, so you are sure to find something you like.
3. The Giver
I read this book quite some time ago, but I really enjoyed it. It's set in this "utopia" like world where everything seems to be perfect. At a certain age, kids are drawn to become an apprentice of sorts, and learn the job they will later do. Jonas starts meeting with The Giver, who holds all the memories in this community. It is very interesting seeing all the things withheld from the society, and seeing Jonas process everything. It's popular for a reason.
3. Ender's Game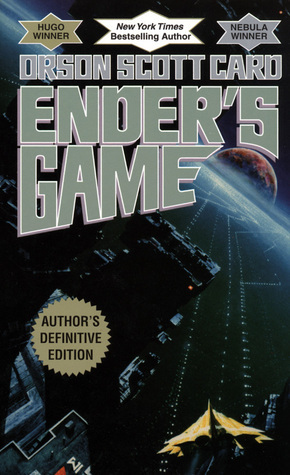 If you are looking for a hardcore science fiction book, this is where you need to turn. It is set in space where children learn to fight the buggers, or the aliens. There are tons of scientific and technological explanations in this book that make everything seem so real. I really enjoyed this book when I read it, and I hope to one day read the rest of the series. Ender is such a great character, and he is one the best of his age. Seeing him on the journey to save Earth is very fun to read about!
There you have it, some great YA sci-fi books. There are many more in this genre that I have yet to read, so another post like this may come up again in the future. Like I said earlier, I stayed away from adding The Hunger Games and Divergent , since they are already so popular and most people have read it. Of course, if you haven't read either of the series, don't pass them up, because they truly are great! I'll be back next week with more recommendations!