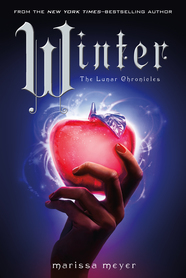 TOMoRROW. IT COMES OUT TOMORROW. Just think, there is only one more sleep before I am holding this thing in my hands. It's been a long year and a half and I am so ready to read this book.
All 832 glorious pages. (Thank you Marissa for making it a big one 🙂  )
This is the last book. I'm pretty sad this wonderful series is over, but it sure has been a great journey. I have grown to love these characters and I can't wait to see their last hurrah.
Not only are we getting all the characters, but we are also getting Winter. we have seen glimpses of her in the past and her childhood in Fairest, so I'm pretty interested to see how her character plays a role in all of this.
This post was very incoherent. I just needed to write something down before I read it tomorrow. I'm so excited, I'm jumping up and down on the inside! There will be a review of this glorious book up one day, but there is a large possibility that there will be a lengthy, ramble post where I talk about everything…which I'm okay with.
I have hyped this book up so much that it makes me nervous, but really, who could it disappoint! As long as Marissa doesn't pull a Veronica Roth, I'm fine!
Hope everyone has a great time reading this book!
AHHHH IT COMES OUT TOMoRROW. AS IN LESS THAN 24 HOURS FROM NOW.