Top Ten Tuesday is a weekly feature hosted over at The Broke and the Bookish. Each week, there is a certain theme assigned where you have to try to list ten for that category. For more information, visit their page here.
August 11: Authors You Have Read the Most Books From
For this top ten Tuesday, I am using the goodreads feature "most read authors" to help me out. Obviously, many of these authors wrote series that I read, but there are a few that I have just read several books from.
EDIT: I COMPLETELY FORGOT SOME OF MY OLD FAVORITE SERIES THAT BEAT ALL OF THESE OTHER AUTHORS WHEN IT COMES TO BOOK COUNT

Barbara Parks and all of the Junie B. Jones Books
Mary Pop Osborne and who knows how many Magic Tree House books
Lemony Snicket and the Series of Unfortunate events
Rick Riordan (11 books)- Entire Percy Jackson and the Olympians series, Heroes of Olympus series, Greek Gods book.
J.K. Rowling (7 books)- All of the Harry Potter Books
Cassandra Clare (5 books)- The Infernal Device Trilogy, and 2 Mortal instruments Books.
Marissa Meyer (4 books)- Fairest, Cinder, Scarlet, Cress
John Green (4 books)- TFIOS, Paper Towns, Looking for Alaska, Let it Snow
Gayle Forman (4 books)- If I Stay, Where She Went, Just One Day, I Was Here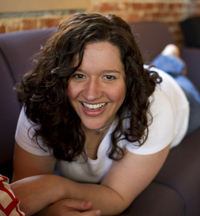 Kiera Cass (4 books)-  The Selection series
Ally Carter (4 books)- Heist Society books, Double Crossed
Veronica Roth (4 books)- Divergent Trilogy, Four's Short Stories
Sarah J. Maas- Throne of Glass, Crown of Midnight, Heir of Fire
And that of course starts all of the trilogy authors, but I have already reached my ten! I'm very excited to see other posts about the authors today, because I know there are some great series out there that I have yet to read!