Author: Sarah J. Maas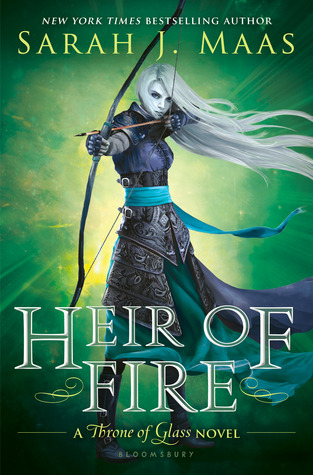 Publisher: Bloomsbury USA
Published On: September 2, 2014
Genre: Fantasy
As you may know, I have jumped on the Throne of Glass series, and I have absolutely fallen in love with it. Right now, I am up to date with everyone else, and have to wait for Queen of Shadows (which is thankfully only a month away!). If you haven't read this series, or just the book Heir of Fire, do not read any more of this review, because you don't want this great series to be spoiled!!
Where do I even begin to write a review on such a wonderful book? Normally I try to break reviews down into characters/plot/writing, but there are three different storylines going on in this book. I'm just going to discuss all of these, because I have so much to say
First we have the Manon storyline. I'll be honest- I really didn't care for her chapters. I wasn't really hooked until closer to the end of the book. I constantly wanted to go hurry up and finish her chapters so I could get more of the exciting bits in other character's perspectives. But I will admit, as they went on, I grew to like them much more. This was a perfect developing storyline for the entire series, and I really can't wait to see how the King's plan unfolds. IT was mentioned that the Thirteen weren't eating the weird meat, which was used to control the witches, so I want to see how they act since they aren't influenced by the King. Also, after I finally figured out what the heck a wyvren was, I enjoyed the dragon training much more.
Then we have the "what's going on in Adralan" chapter that were split between Chaol, Aedion, Dorian, and a couple from Sorscha. I really loved these chapters, because we got to see everything in Adralan and two familiar characters. I, like many others, was EXTREMELY annoyed by Chaol! I mean I understand that your job is to protect the kingdom, but if the flipping the PRINCE supports Celaena, I think you can to buddy. Eventually he came to his senses. Then we have Aedion, who was the jerkiest Jerk ever, until Oh wait, he's not a jerk at all. The full-out loyalty that Aedion showed to Aelin was so adorable, and I really really hope he gets out of jail and we get our Aedion/Aelin reuinion. Speaking of him being in jail, that was just one of the may terrible things that went on in the end. I mean I loved Sorscha and Dorian together, and they both deserved happiness, and her head is just cut off. Not only that but now Dorian has that collar on! I CAN'T HANDLE DORIAN BEING A SLAVE. Nope. Nope. Nope. We need to save him and fast, before the worst father of the century does something.
Finally, we have the glorious Celaena chapters. Basically, these were always my favorite to read, because it's Celaena. She travelled to visit her aunt Maeve, and she has to do all this training to prove her magic. Enter in Rowan, the meanest trainer ever, that I absolutely came to adore. The relationship that formed between Rowan and Celaena was so awesome. You could see their respect for each grow each chapter, and their friendship just became so important. They have all these adventures together and they really grow close, close enough to where she frees him from Maeve and he performs the blood oath to Aelin. I can't wait to see this duo further into the series, and I'm oddly excited for Rowan to meet Chaol and Dorian.
Heir of Fire was just brilliant book for developing. Every single thing in this book, had some ties to development.
Celaena learns to control her power and finally accepts her role as Queen
Chaol discovers that he actually want to support Celaena and Dorian's magic
Manon is part of the King's army for the endgame climax (I can't wait for her and Celaena to meet!)
We learn a lot more about Terrasen and Aelin's background
The world is expanded and we learn about all kinds of different monsters/creatures
WE LEARN WHERE A WYRDKEY IS
I could go on forever about how great of a 3rd book in a series this is, but I'm making myself stop. This book was the first time we really stepped out of Adarlan, and the first time we saw a glimpse of what was to happen. Sarah is planting all these seeds now, and I can't wait to see them blossom.