Author: Sarah J. Maas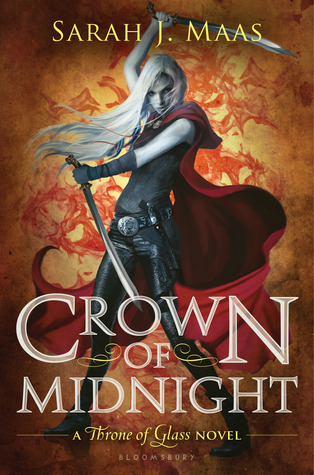 Publisher: Bloomsbury USA
Published On: August 15, 2013
Genre: Fantasy
Crown of Midnight is a the sequel to Sarah J. Maas' Throne of Glass, which I adored with all my heart. If you have not read Throne of Glass or Crown of Midnight yet, what is wrong with you do not read this review. It will have some serious spoilers for the series that you will want to experience while reading. Normally at this point I would give a little non-spoilery summary, but even the summary could give things away if you haven't read the first book, so I'm just going to avoid that. Go read the books, then you can come back and discuss.
If you would have told me that this book would manage to be even better than Throne of Glass, I wouldn't have believed. Now I know that I was wrong to not believe you. More often than not, sequels are a bit of a letdown for me, but this one was extraordinary. There are so many things to discuss, but this review can only be so long, so I will I finatry to divide everything up as best as possible.
Crown of Midnight opens up to Celaena doing her Champion-work for the King, and it is revealed that she isn't actually killing the people she is supposed to (which wasn't a surprise, knowing Celaena). It was all going along fine until she got the order to kill Archer Finn, who was said to be a traitor to the King. This was really the beginning of the plot as we learned more about the rebel group and the treacherous things the King has done. At this point, we start learning a ton about magic, especially the wydrkeys used to create the portals. There are three keys total, and if you possess them all you can basically rule the world. At this point we aren't sure where they are or how many the King has. Sarah J. Maas puts a lot of detail and explanation when explaining her world, and it just makes it so much better.
The characters are still the characters I loved in the first book, just enhanced ten times. Celaena managed to become even more epic as a character. Before I delve deeper in the characters, I must say this: Celaena and Chaol's relationship. I have loved Chaol and his connection with Celaena since the beginning. These two are absolutely perfect, and their scenes together are adorable. But just because I love Chaol, doesn't mean I don't love Dorian! I may not like him as much with Celaena, but he is still an awesome character. He develops so much in this book with his magic, and I can't wait to see where it takes him. Now for the feels, because Nehemia. I was so heartbroken when she died, especially when we find out she planned it to push Celaena toward the main goal.
The entire scene where Celaena finds Nehemia is a devastating scene. This is one of the first times we truly see Celaena crack. I mean she almost killed Chaol, who she deeply cared about (she killed like the entire rebel group for him). Thankfully Dorian's magic saved the day and we still have Chaol with us.
While there were are many great scenes in this book, my favorite is hands down the climax. Celaena goes in the tunnel to open a portal to talk to Nehemia and all hell breaks loose (literally). Chaol, Dorian, and Celaena are all present and everyone learns some interesting facts to say the least. The twist of Celaena being Fae shocking me, but what shocked me more was her knowing about! We have spent two books in her head and nothing. After learning about it though, small instances and lines throughout the books all made sense. There was actually quite a bit of hidden foreshadowing that I never caught.
You think that Celaena's faeness is the big twist about her in this book, but Maas proves us wrong. Let's just say we may be calling Celaena Aelin in the future. At this point I was ready to believe anything, so Celaena being the lost princess of Terrasen was pretty normal. All I could think was that in my favorite books, the character ends up being a lost princess, because hello Cinder!
Overall, I absolutely loved this book. Celaena's relationships with everyone grew so much and we got to know a little more about our mysterious assassin. I know this review was an absolute mess, but that's probably because I have too many emotions and read this about a week ago. I'm truly loving the direction this series is going!