I know I had a different tag planned for this week (I'll will still probably do it too), but I saw this and couldn't resist.  So apparently, 2015 is half over. Somewhere in my mind, I knew that. However, I didn't really make the connection until now. I saw this tag on Audrey's blog Forwards and Bookwards and I thought it would be a great way to reflect on my reading this half-year.
1. Best book you've read so far in 2015
This is extremely hard for me as I really have read some great books this year. However, since I can't list them all, I will have to go with my new favorite Throne of Glass by Sarah J. Maas. I read this maybe a week and a half ago and I'm pretty sure I have mentioned it 10 times already. I love this new fantasy world, and need more of the series!
2. Best sequel you've read in 2015
It's really hard for me to not say Crown of Midnight, even though I just answered Throne of Glass. I haven't actually read a great sequel this year now that I think about it. The Heir was so-so, and I really didn't care for P.S. I Still Love You. Hopefully I'll read some good sequels the second half of the year!
3. New release you haven't read yet, but want to
Basically my entire tbr pile, but one book in particular stands out. The Night We Said Yes by Lauren Gibaldi. Ever since I seen the synopsis I have been intrigued. I almost bought it at Barnes and Noble but couldn't bring myself to pay so much money for a small hardback. I will read it very soon.
4. Most anticipated release for the second half of the year
I'm looking forward to a handful of books in the coming months, but my overall most-anticipated release is very easy to guess. I'm pretty sure I have talked about how excited I am for Winter by Marissa Meyer on at least 50% of my posts. To say I am excited is an understatement. I need those 800 pages of goodness in my life.
5. Biggest disappointment
As I stated on question 2, I really didn't care for P.S. I Still Love You. After reading through my review, I feel I was pretty generous toward the book. The book just wasn't going anywhere and had no distinct plot. I loved To All the Boys I Loved Before and was really looking forward to more, but I didn't get it.
6. Biggest surprise
I would have to say my biggest surprise was In the Afterlight, the last book in The Darkest Minds. After reading soooo many series and trilogies with disappointing endings, I was very shocked at how satisfied I was with the finale. Every loose end was tied up in a beautiful bow and it was one of the first books since Harry Potter when I had a warm, fuzzy feeling at the end. Very few books have "perfect" endings, but this one did for me.
7. Favorite new author

Lynette Noni, author of Akarnae. Her world building was truly astounding and I flew through her book. It was the first book of 5(?) I believe, and even though it'll be a lot of patience on my part, I am really looking forward to reading the rest of her series. I have a feeling we just got a glimpse of her writing talent in the first book, and is building a great story line.
8. Newest Fictional Ship (I changed it from "crush" because I liked this question better)

Ruby and Liam from The Darkest Minds. I can't even explain the cuteness of this couple. They sort of remind me of Percy and Annabeth in ways, because of how they juggle a relationship in all the obstacles thrown their way in this series. Love love love these two together.
9. Newest Favorite Character
Celaena Sardothien hands down. She is up there with some of my favorite female characters of all time, including Annabeth Chase and Hermione Granger. When you think about it, you really shouldn't love an assassin as much as the fandom does, but it's impossible. Celaena is the most hardcore character I have read, and could probably beat every guy in the series in a duel.
10. Book that made you cry
All the Bright Places by Jennifer Niven. This book affected me like The Fault in Our Stars did and was definitely the most emotional book I read this year. I actually just found out that there is a movie in the making for this book, and I like squealed in excitement. The movie will probably tear me to pieces, but I am so looking forward to seeing in translated on the big screen. (however everyone will talk about how it is a tfios knock off which will be sad because this book is truly amazing)
11. Book that made you happy
Very easy. Since You've Been Gone by Morgan Matson is the definition of a happy book. My cheeks hurt because I couldn't stop laughing and smiling. It's very summer-y and the whole concept is very intriguing. I loved everything about it.
12. Favorite book to movie adaptation you saw this year
Definitely Insurgent, it was so accurate and well done. One of the best movie adaptations ever!*******SARCASM. As you can tell I didn't care for Insurgent too well. That's the only one I have seen that has been released this year, but I am hoping that Paper Towns is my favorite of the year. There are a few little mistakes but it still looks very promising. EDIT: AHHH, I was going through this post and just realized it comes out this Friday!! *happy dance*
13. Favorite post that you've done this year
This is tied between my Disney Song Tag and The Best of Rick Riordan's Chapter Titles. My tag actually was done by quite a few people, which is pretty cool. The Chapter Title post was just hilarious to write, because I loved looking back on all of Rick's chapter names. I got a pretty good response from that post, so I would  like to do more unique lists.
14. Most beautiful book you've bought this year so far
Even if I didn't care for the book, this cover is still absolutely beautiful! I love the background colors so much and how it goes with the grey dress. Definitely my favorite cover of the series!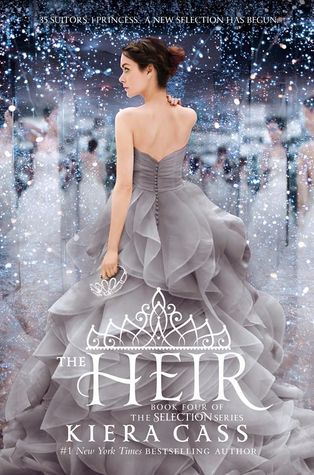 That was super fun to write! I really enjoyed going back and looking at the books I have read this year (even though it is sort of a small amount). At the end of 2015 I will most definitely be doing a post like this for my overall books I read this year. On one of the questions I mentioned how I had a few anticipated releases coming out the second half of this year. I think that may be a future post this week or next, because I would really like to see how close I am to reading some of my new releases!