Author: Sarah J. Maas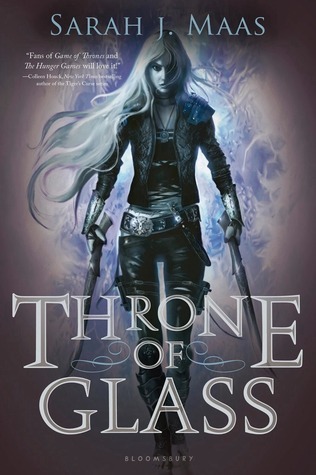 Publisher: Bloomsbury USA
Published On: August 7, 2012
Genre: Fantasy
Rating: 5 out of 5
I honestly don't know how I will make it through this review without babbling about how great this book is, but hopefully I will be able to control myself. For those of you who don't know what Throne of Glass is about, here's my little summary that I can give to you without spoiling.
Celaena Sardothien is the most well-known assassin in all of Ardalan. When Prince Dorian offers her freedom from the worst prison ever, she knew there was something bigger going on. He said he would give her freedom on one condition: if she competed in the King's competition to find the next royal assassin. There she will have to face 23 deadly competitors in competitions, and if she wins, all she has between her and freedom is three years of service. Things were going great until the other competitors started showing up dead everywhere. Will Celaena be able to figure out what's brutally killing the assassins? Or will she be the next victim?
There you have it. If you haven't read Throne of Glass yet, DO NOT CONTINUE READING THIS POST. Seriously, this is a book you want to read for yourself, so run to your nearest book place and go read.
Oh, how to begin a review of a book like Throne of Glass. I am tremendously mad at myself that it took me this long to get on this train. But now that I'm on it, I'm here for the rest of the ride. This book really outdid itself when it came to introducing characters, setting a series plot in motion, and building a new world. With each page, you grow more and more attached.
Sarah J. Maas has created some very interesting characters. Celaena is the pinnacle of awesome, butt-kicking female protagonists in young adult books. She can fight better than all the men in this book and is very sassy with he remarks. The two guys in this book, Dorian and Chaol, are also great in their own ways. This story actually has a love triangle I can get behind. While I am an absolute Celaena/Chaol supporter, I still loved her time spent with Dorian. Her interactions with the two are really nice, especially as you see them growing closer to one another.
The whole idea of the competition for the King's champion was to say the least, very wonderful. Chaol made Celaena hold back when she was with the guys, but when she finally showed her real skills, they knew better than to misjudge this little lady. It was easy to call that it would be her vs Cain in finals, but the whole thing with him and the portals made up for it. The scene where Celaena is fighting Cain and the beast is so intense you are almost ripping pages to keep going. I really liked how the competition wasn't everything to this book, because we also go to see a side of the magic in this world. Everything from Queen Elena visiting to Nehemia and the wydrmarks really gave a small taste of what was yet to come in the series.
There are so many lovable parts of this book, but here are a few I especially enjoyed…
Chaol very slowly realizing how he feels about Celaena
Celaena's sassiness with Kaltain
The constantly switching point of views
The last battle verus CaiI re
When Celaena proves herself to her competitors
Throne of Glass was a great starter book in what I will presume to be a great series. With every page you love the characters and this story even more. There are aspects of action, mystery, competition and romance that insure for an exciting tale. I absolutely loved Celaena's personality and watching her defeat the obstacles set in her way. I can't wait for more!