*CUE STAR WARS INTRO* 
A long time ago (10 years to be precise)
Our world was introduced to none other than
PERCY JACKSON
That's right people. It is the 10 year anniversary of our favorite demigod, Percy Jackson. In honor of this special anniversary, there are many fun things going on in the book community. But before we get to those, first I want to share a little bit about these books.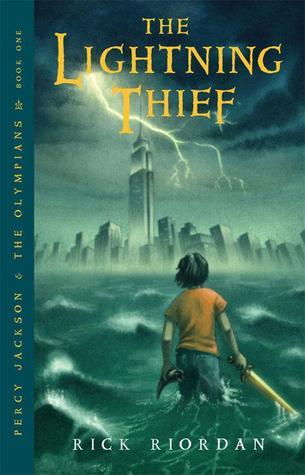 In Percy's world, Greek Myths are real. I know that sounds crazy, but stay with me. So since these myths are real, all of the Greek gods have children with mortals, and we call these kids half-bloods or demigods. A lot of them have special powers or abilities that make it hard for them to live in the real world because they attract too many monsters. So they go to Camp Half-Blood, where they can train to kill monsters but still have fun. While at this camp, you may be chosen to go on some sort of quest to do who knows what. That's the best little explanation I can give without giving too much away.
Basically there are ten books divided into two separate series. Percy Jackson and the Olympians (The Lightning Thief, The Sea of Monsters, The Titan's Curse, The Battle of the Labyrinth, and The Last Olympian) is the first series and is solely from Percy's point of view. After Riordan finished this series up, he created a spinoff called The Heroes of Olympus (The Lost Hero, The Son of Neptune, The Mark of Athena, The House of Hades, and The Blood of Olympus.) This spinoff has alternating perspectives, so you get into the heads of so many characters.
I'll be honest, I was apprehensive when I heard the idea of a book centered around Greek Mythology. Never in my life have I been so wrong. Rick Riordan has this way of writing to make the mythology so interesting. Seriously, after I read his books I had all this knowledge about a topic that I wouldn't have gotten otherwise. Don't let the idea of it throw you off, I promise you will be missing out on a great story.
These books are for all ages! Whether or not you are kid, teenager, or adult, you will enjoy these books. There is action, adventure, humor, even romance. If that's not convinving enough, I don't know what is.
NOW FOR THE GOODIES
If you are someone who hasn't had the delight of reading this series, you are in luck! Right now and until June 22, The Lightning Thief is only 0.99 cents on all ebook accounts! It also includes a sneak peek at Riordan's new Norse series, Magnus Chase and the Gods of Asgard. This sneak peek can also be found on the readriordan website, which is located here —–> http://readriordan.com/book/the-sword-of-summer/  Also, there have been many people chosen to host giveaways! All you have to do is visit a website like http://elizziebooks.com/2015/06/17/happy-birthday-percy-jackson/#comment-67602  and find out how to enter for a chance to win a boxset!
Finally, to celebrate this anniversary, there is an activity kit! It has all kind of fun games and activities to enjoy. Here is the link: http://readriordan.com/content