Author: Morgan Matson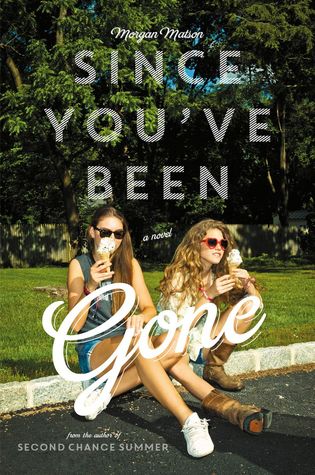 Publisher: Simon & Schuster
Published On: May 4, 2014
Genre: Contemporary
I'm not sure if I will be able to capture the perfection of this book with words, but I'll try. For those of you who haven't read Since You've Been Gone, this review may have some spoilers, so I would suggest reading it and then coming back. However, I will leave those of you who haven't read the book with a short summary.
Emily wasn't the bold type. She didn't go to parties and wore the same sort of outfit. That is until she met Sloane. With Sloane at her side pushing her to do things, Emily was a new and improved version of herself. They were the best kind of best friends. The summer they had planned out was going to be epic, until Sloane disappears. No calls. No texts. The only thing she left behind was a list of crazy adventures for Emily. Some were easier, some were harder, but they all pushed Emily to things she normally wouldn't do. As Emily goes the summer checking things off the list in hopes of finding Sloane, she meets amazing people and has great experiences. Maybe the summer wouldn't turn out as bad as Emily thought.
I wanted to wait until Summer to read this, but I couldn't. The concept was very appealing to me and it looked like a super fun contemporary. This book has humor, adventure, friendship, and even some romance. Reading it puts you into this extreme state of happiness. (If you can't tell I really loved it) Enough with the gushing, let's talk about the book.
The main thing I enjoyed about this book was the characters. I loved how close Emily, Frank, Dawn, and Collins grew over the summer. They were all helping with the list and had some amazing experiences together. You could see them grow closer and closer each chapter. A prime example of the developing friendship is Frank and Emily. They meet and Emily doesn't really feel comfortable around him at all. But with each running session we seem them warm up to each other more, and then we have then staying up all night just talking. That scene on the beach was their true icebreaker. I guess you learn a lot about someone when you stay up all night with them. Since You've Been Gone had one of my favorite aspects when it comes to relationships: a budding friendship. When I read romances, my favorite thing is watching the two become friends. I do not care for love at first sight or anything. This book was great at it, and they didn't even get together until the very end.
Another thing about this book that made it stand out was the extra things. The playlists and the constant flashbacks were great. We don't meet Sloane really until the end, but we already know so much about her character just from Emily's memories. Speaking of the end, I was really scared we wouldn't get Sloane. I don't know why I was thinking it, but I was so scared that they would never really find Sloane, but just a letter that explained what happened.
Overall, this was a pretty predictable book, but still very enjoyable. We knew Frank and Emily would get together, and we knew that when Frank went to New Jersey it was to break up with Lisa. However, it's still entertaining to watch characters that don't know what is going on. One of the best scenes is when Frank and Emily are in the car driving to Sloane, and it is just pure awkwardness. The last time they were together, Emily ran away from him (literally). In the end, they finally talk and everything turns out.
This was a super fun contemporary, and it makes me want to read more summer books! Winter is finally over and now I want to read all kinds of cute little romances! This was actually my first Morgan Matson boo. I've heard that this is her best of the three, but I still think I want to read her other books. Has anyone read them, and do you think I should?