Author: Alexandra Bracken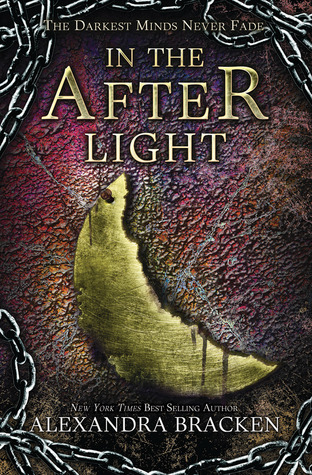 Publisher: Disney Hyperion
Release Date: October 28, 2014
Rating: 4.75 out of 5
I'm not sure how this post got lost in my other ones, but it's here now! In the Afterlight is the third and final installment of the Darkest Minds trilogy. If you haven't read this series yet, I recommend not reading this review, as it will have major spoilers. By the way, you should seriously pick up this trilogy, you will not be disappointed.
Before I get down to the details, I just want to say that this book was overall fantastic. Unlike the other books, this one definitely has more emotions as the characters get to the end of their story and things get serious. I love the way we see everyone develop throughout this series. Alexandra Bracken is great at adding dimensions to her characters, and truly making them feel real.
In the Afterlight is very different from the other books in series because we are in the same setting for three-quarters of the book. This makes the beginning a bit slow and at times the plot drags. But at the same time, this is how the characters feel as well. They want to get out of headquarters and do something, but they can't. Things really pick up when they invade the first camp. After this, the book is continuing action of some sort.
One thing that I could not wrap my head around during this book was how they much they still trust Clancey. They have him riding in the car and I'm on edge because I really think that Clancey is going to make them wreck or something. At times, they would just send Cole up there to feed him and it just freaks me out. Stop putting so much faith into Clancey, you know he's up to something. Surely enough, the entire book he is controlling Ruby and no one even knows it. I knew he was doing something and no one did anything. In the end, I know he ends up in his worst nightmare with him out of control and his memories erased. I actually thought that when his mom shot at him, she killed him, and I was happy. Unfortunately, he survived and the rest was history.
Ruby and Liam had a pretty rocky relationship throughout this book. Miscommunication will do that to a couple. They had all these sweet moments, but then they would just start fighting again. Ruby reacted horribly when she saw the note and then they fought about how to save the kids. On top of that, Ruby and Cole were like connected to each other's hip and would not tell Liam anything. But in the end, everything between them turned out alright, which I was so thankful for.
Speaking of the end, this book has to have one of the most satisfying endings ever. Seriously, it's like a step below Harry Potter. Alexandra Bracken tied every string up with a nice little bow. The time from where Ruby went into Thurmond again and the last page of the book is my favorite part of the whole series. I loved how it was a full circle and that we started with Ruby in Thurmond, and ended with her there. We were able to see how confident she was and how she freed everyone. Everything after Liam finding her in Thurmond was pure emotion. I loved seeing her reunite with her Grandmas and fix her parents. Everything was perfect. This book did a great job at tying up all the loose ends.
I could go on and on about the things I loved in this book, but you would be reading forever. Here is a short list of some of my favorite scenes.
Zu coming back and doing that awesome interview.
Learning about Chubs and Vida.
The pep talk Vida gives to Zu.
Liam and Ruby in the pantry together
I can't believe I'm done with this trilogy. I am super glad I went back and to read The Darkest Minds, or I would have missed this great series.