The Sunday Post is a weekly meme created by the Caffeinated Book Reviewer. It is a way to recap posts and talk about what is coming in the future. Check out the website Caffeinated Book review here for more information: http://caffeinatedbookreviewer.com/the-sunday-post-meme
Here are my Posts from this week:
~~~~~~~~~~~~~~~~~~~~~~~~~
What's Going On
I'm planning on cleaning off and rearraning my bookshelf. This is always a daunting task just because it takes me forever to organize them the right way. This is happening for two reasons. Number 1: I have accumulated a few more books, and since I'm not normal and I can't just stick them on a shelf randomly, I have to go through and see where the will belong. Number 2: I'm hopping to particpate in Addlepates and Books new feature called Exploring my Bookshelves. Each week she gives some sort of question or theme dealing with your shelves, and it sounds like a lot of fun.
I'm super happy that some people enjoyed my Disney Song Tag. That is the second tag I have ever made and I had lots of fun with it. In the future, I am hoping to create some more of my own tags. I know many people enjoy tags and I making a list of people who want to be linked to the tags I do so they can see them and have a chance to do them as well. If you enjoy these posts and are looking for more tags, comment below!
~~~~~~~~~~~~~~~~~~~~~~~~~
Currently Reading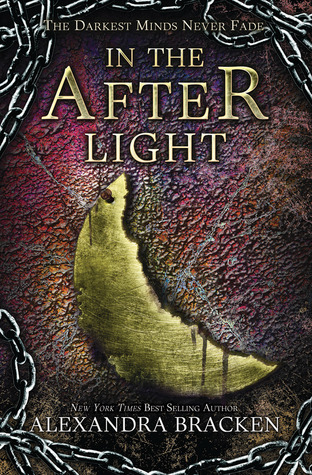 In the Afterlight by Alexandra Bracken
I have been reading this trilogy non-stop and I have fallen in love with it. If you want see me gush about these books, I have the reviews coming soon.
~~~~~~~~~~~~~~~~~~~~~~~~~
Upcoming Posts
Darkest Minds Review
Never Fade Review
Monthly TBR Challenge
March Releases
Top Ten favprote books of ALL TIME (aka the hardest top ten tuesday ever)
Hunger Games Tag
~~~~~~~~~~~~~~~~~~~~~~~~~