Many of you know that I have been talking about My True Love Gave to Me for awhile now. I wanted to read it back when it came out, but then I decided to wait until Christmas. The other day I noticed how I had been reading book had barely put any reviews out at all! So I decided, I will read one story from My True Love Gave to Me each day on the 12 days of Christmas. Not only that, but I will also post some sort of review or thoughts on that particular story! I think this will be a very fun way to countdown to Christmas, and I will still have additional Christmas posts as well.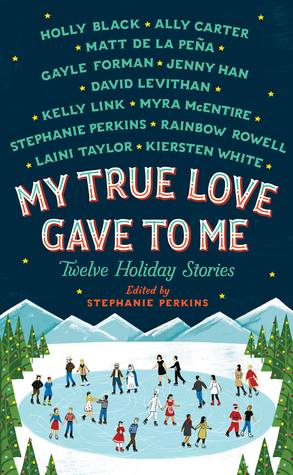 Here is the order of the stories:
December 14: Midnights by Rainbow Rowell
December 15: The Lady and the Fox by Kelly Link
December 16: Angels in the Snow by Matt de la Pena
December 17: Polaris is Where You'll Find Me by Jenny Han
December 18: It's a Yuletide Miracle, Charlie Brown by Stephanie Perkins
December 19: Your Temporary Santa by David Levithan
December 20: Krampuslauf by Holly Black
December 21: What have you done, Sophia Roth? by Gayle Forman
December 22: Beer Buckets and Baby Jesus by Mrya McEntire
December 23: Welcome to Christmas, CA by Kiersten White
December 24: Star of Bethlehem by Ally Carter
December 25: The Girl Who Woke the Dreamer by Laini Taylor
This is going to be super fun!