To All the Boys I've Loved Before by Jenny Han
Rating: 4 out of 5 stars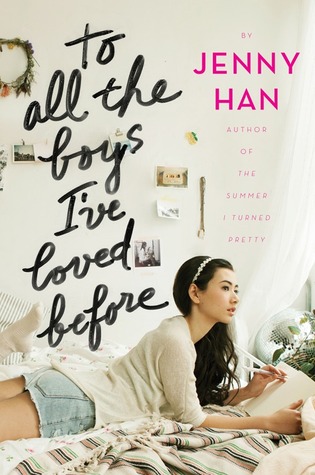 Lara Jean had loved many boys before, but could never tell them. She would just write them a good-bye love letter, and seal them out of her life. She didn't have to worry about the boys after she wrote the letters, her feelings were locked away. That is until someone mails the letters out to each of the boys. Now, everyone is confronting Lara about her feelings, like the boy from seventh grade. Even her sister's ex-boyfriend.
This was a cute contemporary book, that is perfect for reading it in one sitting. Before I even started the book, I was already drawn in by the concept, because it seemed like it would play out to be very funny and adorable. I was definitely right. I loved the relationship between all the characters, like the three sisters, Margot and Josh, Lara Jean and Peter. They all the best relationships with one another, and I loved the way they interacted.
While reading this book, I knew there was no way that Lara Jean and Josh would actually become anything. Josh wasn't in the book enough, he just popped in and out at random times. One of my favorite parts is when he keeps telling her that they could've been together and when he tries to kiss her, and she pulls away. I think this is when she realizes that she really does love Peter.
Speaking of Peter, his relationship with Lara Jean was adorable! As soon as they said they were doing the whole "fake" relationship thing, you need they would end up actually liking each other. I mean it super cliché, but it was still very cute in this book. I loved watching their relationship grow, as they started breaking their own rules in the contract, and going out of their way for the other person. Also, I loved how he didn't like completely ignore Kitty like a jerk, and actually talked and  played with her.
Kitty was hilarious in this book. She was very different from Lara Jean, and I loved how persistent she was. The way she planted the seed about wanting a puppy, and then just casually throwing good things about dogs into conversations was adorable. And of course without her, we wouldn't even have the story, since she was the one that sent out Lara Jean's letters. This was the only thing that bothered me about Lara Jean. She never even tried to figure out who sent the letters out. It was pretty obvious though, since there were only a few people in the house, and Kitty was mad at Lara Jean.
Overall this was a pretty god book. I was kind of sad that it ended the way it did, but then I realized that there is a sequel coming out next year! I am very excited to see where that story goes.