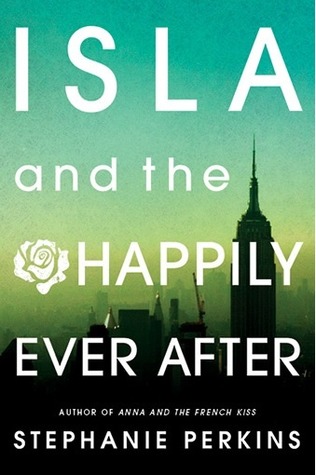 Isla has been crushing on Josh since freshman year. She watched his relationship with his friends and ex-girlfriend, saw him at his high and at his low. Little did she know that Josh had paid attention to her too. Now the beginning of senior year in the city of love, and Josh's old girlfriend in the past, the two will grow closer athan they would have ever thought. However, they will learn, that Happily Ever After, sometimes only exists in fairy tales.
I read Anna and the French Kiss and Lola and the Boy Next Door and fell in love with the characters. I loved all their little quirks and details about them. The romance between Anna and St. Clair and Lola and Cricket were the best to read. Stephanie Perkins writing is perfect for when you just finished a sad book. It picks you up because it is cute and romantic. This book for me was a little different. Don't get me wrong, I still loved it, but it is definitely my least favorite of the three.
First off, I didn't immediately love the main characters at the beginning. In fact, Isla got a little annoying to me at parts of the book. I also didn't care for the whole "Oh, I loved you since the first time I saw you." It was fine that Isla had been crushing on Josh for years, but I didn't care for the part where Josh said that he was flustered around her in freshman year because he liked her too. If that was really the case he would have tried to see if Kurt was really Isla's boyfriend.
Speaking of Kurt, he was amazing. He was probably my favorite new character, and I felt like he was more ignored as a side character than past side characters. He had a passion for maps that was adorable, and I loved how that was included. It makes a character feel more real if they have strange hobbies.
After getting to know the characters more, we finally get on with the plot of the story. I thought the plot was lacking and it could have been much better in my opinion. One of their conflicts was when Isla broke up with Josh, and it could've been solved if they would have just TALKED. I mean in the end they finally did but it took like 1 or 2 months which was way too long. I was just happy that Hattie sent that book to Josh, or they may have never talked.
Now with all that, this book did have some amazing parts. I loved the description of Josh's art, because it was the only thing we saw about the real Josh. We knew it was his passion by the way he talked about it. Also the "treehouse" was an amazing setting, and I wish that would have been used more. Isla and Josh were a pretty cute couple, and there were definitely moments that make you feel all happy inside. Especially the ending where all the old characters came together. I think that whole scene confirmed to me that I didn't care for the main characters, because at the point I didn't care if Josh and Isla were getting back together I was just repeatedly chanting in my mind Anna St. Clair Lola Cricket.
With all that being said, I give this book a 3.8, because it was good book, but after reading Stephanie Perkins other books and knowing what she can write, this one was kind of a letdown. So what did you guys think of this book? What book of the three is your favorite? What was your favorite moment? Please let me know!