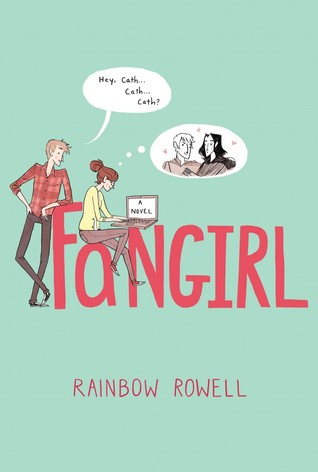 Meet Cath, the world's number one Simon Snow fan, as she starts the newest horror in her life. College. She wouldn't be as nervous if her twin sister, Wren, hadn't told her that she didn't want to share a dorm with her. Now Cath, who is already worrying enough, has to deal with rooming with someone who isn't her sister. And as if college wasn't enough, she also has to work on her on-going fanfiction "Carry on, Simon," which is pretty much her life's work. Throw in a confusing love life, a teacher that just doesn't understand, and a boat load of worrying and anxiety, Cath doesn't know how she'll even make it through the first semester.
Fangirl is an amazing, relatable coming-of age story that fills you with happiness. Rainbow Rowell does an amazing job at writing characters that are so easy to understand and relate to. Her writing is very witty and you will laugh so many times while reading this book.
If you haven't read Fangirl by Rainbow Rowell yet, I suggest you go to your library/bookstore/anywhere, pick it up and start reading it. Also don't read any more of this review, because I wouldn't want to spoil anything for you.
~~~~~~~~~~~
After reading Fangirl, I can definitely say that this is on my list of favorite books. I read this book in one sitting, I was so hooked from just the first few pages. I loved how it wasn't some normal college story where outrageous things happened, but rather an ordinary story about a slightly unordinary girl.
Cath was absolutely the most relatable character I have ever read. Just how she obsessed over books and movies just like me made me love her from the very beginning. Not only her, but all the characters were very interesting and intriguing. I loved Raegan and her sassiness and Levi and his quirkiness.
Now, before I went into this book, I figured that Simon Snow just represented Harry Potter. As I read on, I was sure I was right. However there was this one line, where Levi actually says 'Harry Potter'. That part confused me, because then I didn't know if Harry Potter existed in their world or if it was just Simon Snow.
The only other thing that I didn't particularly care for, was all the excerpts to the fanfiction. I felt like there were a lot of these, and after a while, I got tired of reading them. I didn't know Simon and Baz as characters that well, so I didn't care much about what happened to them.
Some of my favorite parts of the books were…
The scene where Reagan asks Cath about the protein bars. I was laughing so much.
When Cath read Levi's book to him-it was adorable and it showed that you could love books even you can't read them well.
The twins names were explained- Cather and Wren= Catherine. I thought that was hilarious when I read it.
The ending where Wren and Cath got the last book in the Simon Snow series. I thought it was an amazing ending to an amazing book.
Well those are some of my thoughts on Fangirl, and I give it 4.5 stars. I hope you guys enjoyed this book as much as I did, and keep watching for more posts!